You are a Go enthusiast and you love to share and celebrate your passion with like-minded people from around the globe? Then use the unique opportunity to play your favorite strategy game on the public facade of the Museum of Modern Arts, Kunsthaus Graz, Austria!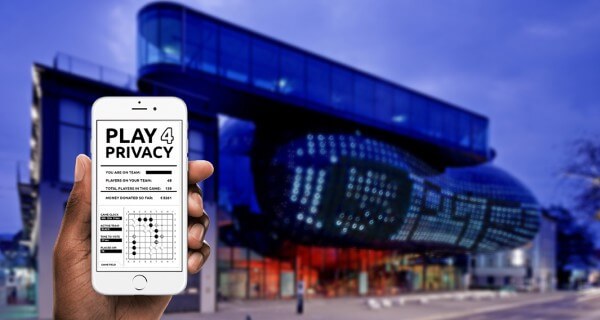 From September 27th until October 27th — daily from 7pm to 10pm CEST — two teams of arbitrary size play against each other in the public space, using crowd intelligence principles.
While playing Go, you contribute to the genuine project Play4Privacy,combining elements of game, arts and technology and even get rewarded.
It's (not) child's play!
Board games like Go show how decision-making works and convey the underlying principles of "consensus" and "finality" in complex networks. These paradigms are also used by the blockchain, the underlying technology of crypto-currencies like Bitcoin. The blockchain allows "transparent anonymity" that allows anybody to participate anonymously while displaying the results publicly.
By playing Go, the project Play4Privacy creates awareness for privacy in general and the blockchain in particular in the most playful and interesting manner possible. However, it is not required for the participants to understand the underlying technology to experience its value.
Child's play, but very seriously so!
Furthermore, Play4Privacy introduces a novel concept to "mine" crypto-currencies similar to Bitcoin. It is called "proof-of-PLAY" and rewards every Go-player with virtual tokens (coins) for playing the game, no matter if they won or lost.
These tokens can be traded on an exchange and converted into Euro, Dollars or other currencies later on. Thus, blockchain-newcomers, as Go-players naturally are, can make their entrance into the world of crypto currencies just by following their passion, playing Go.
Join the movement, learn more about this technology and get rewarded.
Visit www.play4privacy.org and play with us!